Granfors Great Career Set to Continue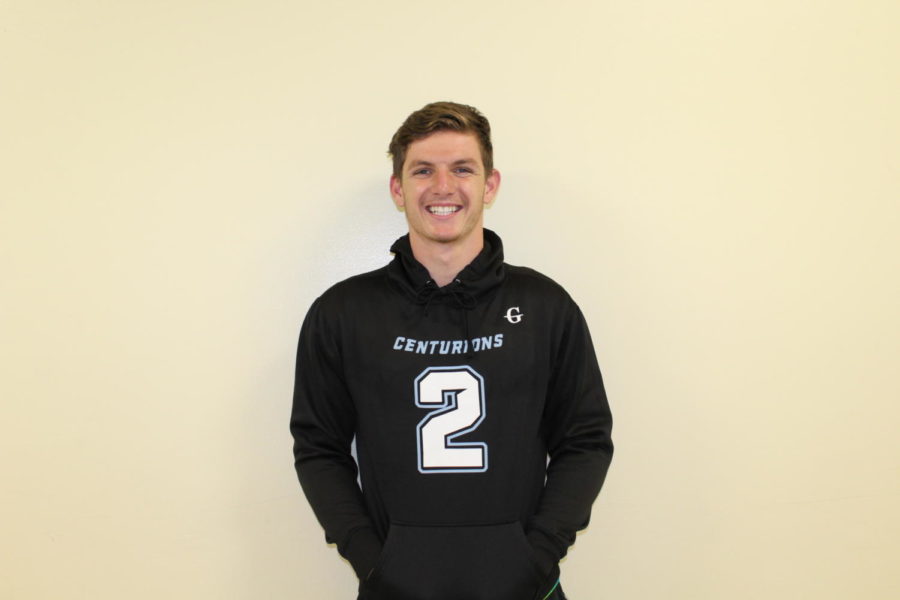 He sits in the locker room listening to his  RnB playlist to calm his nerves, preparing the team prayer to lead before the game. That is Senior Casey Granfors' happy place, before he goes to battle with his fellow UC High Centurions.
   The 6' 4" multi-sport star says he doesn't take anything for granted. Granfors has lettered in football, basketball, track and field, and lacrosse — making a name for himself here in San Diego County. Even as he is flying through the air to pulverize the rim and strike fear into his opponents, or dives to catch a winning touchdown pass, or explodes to slam over a poor soul on the court, he continues to work his heart out.
   Making crazy one-handed catches or stiff arming defenders, Granfors is never satisfied. He explained, "It's not all about talent in sports." Granfors went on and stated, "It's [often] the people without talent that outwork the people with it." With this mindset, Granfors worked his way to a full-ride scholarship to play Division 1 football at the University of California, Davis.
   This determination helped Granfors when he was at the crossroads of his competitive football career. A seventh-grade hip dislocation was going to force him out of his eighth grade football season as he didn't want to re-injure his hip. "I was in the worst pain of my life," Granfors said, recalling the tough decisions he made that helped make him the football player he is today.
   Granfors has been a steady performer in both football and basketball for UC High. According to a high school sports statistics website, on the gridiron, Granfors had 3,860 receiving yards during his four years on the Varsity Football Team, including a mammoth average of 137.8 receiving yards per game over the course of his senior season. He ended his high school football career with 5,361 total yards. On the hardwood, he averaged 11.8 points per game, and 9.4 rebounds per game, both well above the national average (maxpreps.com).
   Granfors attributed most of his pass-catching success to his good hand-eye coordination, height, and jumping ability. "I'm not always the fastest or strongest player on the field, but if you can throw it near me, there is a good chance I can catch it," Granfors stated. Junior Quarterback Gunnar Gray couldn't agree more, as he stated, "[Granfors] made my job easy. He caught everything I threw to him."
   UC High Varsity Football Coach Ryan Price weighed in on Granfors' unique skill set, "Casey is an outstanding athlete. To move the way he does at his size makes him special. On the field, during games, he is able to separate from people to make big plays downfield. His speed goes underrated due to his size," he said. Price went on to call Granfors "irreplaceable."
   Granfors always tries to be a great teammate: "Be good to them, because you never know when you will need them in the future." Price spoke of Granfors' off-the-field impact, stating, "Casey has a great personality and is loved by all his teammates. They naturally look up to him as one of the best players on our team. He was the emotional leader for our team and also set the example with his actions on and off the field."
   Granfors explained that strong team chemistry was the main contributor to his favorite high school sports memory, taking place during his junior year. On February 20, 2018, the UC High Boys Varsity Basketball team took down second-seeded Rancho Buena Vista in the first round of the CIF Division III basketball tournament by a final score of 61-51. "It was a great game, and had us going crazy," he elaborated.
   Granfors has had an amazing high school career, but the always-determined senior isn't quite done yet. "I want to finish the year with straight A's," he said. Granfors also wants to work on getting faster, ahead of his first college season. "I need to work on my study habits too," he said. "I will miss the amount of fun I had in high school sports," he continued. Granfors is thankful that high school sports helped "build him as a person," as well as help him with his progression in the game of football.
   Make no mistake, Granfors is going places with a level head on his shoulders. Look for lighting up college football broadcasts on Saturdays and filling SportsCenter Top 10s for years to come.