Beloved Balagtas on to Bigger Things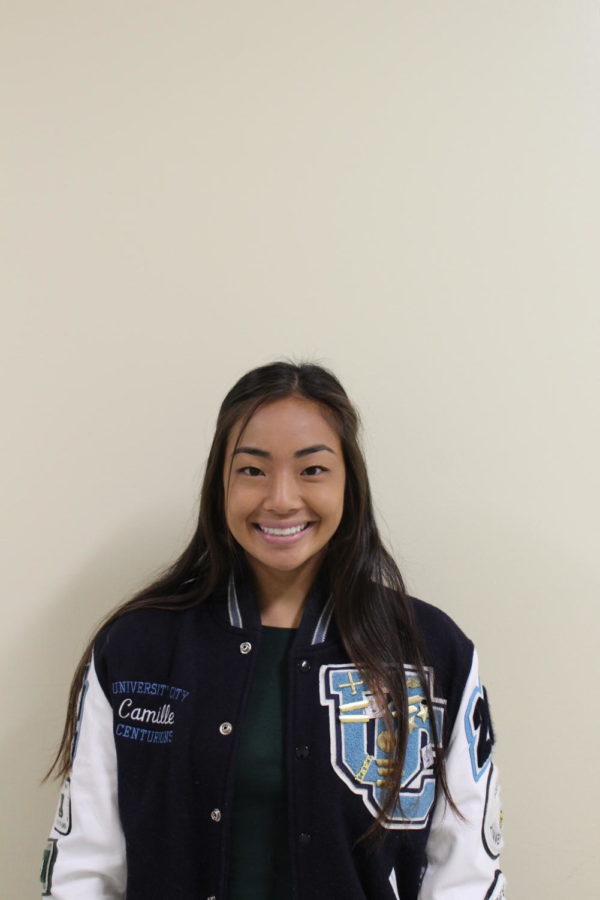 Senior Camille Balagtas will end her high school sports career as a four-year Varsity Soccer player, Field Hockey player, and Track-and-Field athlete. Balagtas is known as an exceptional student and even better friend to all of her teammates.
   Originally, Balagtas did not intend to be a four-year, three-season athlete, but rather her sports career was something she fell into. "I started playing soccer on a whim, only because it was what my best friend at the time was doing," said Balagtas. At that point there was no looking back, for this naturally gifted athlete would go on to become the incredible competitor she is today.
   In her time at UC High, Balagtas made a plethora of memories and had many experiences that she will cherish forever. She explained that sports have taught her many important lessons. "Sports teach you lessons about life and about yourself that I haven't found anywhere else. Sports breed competitiveness, that can be applied to succeed in school and work," said Balagtas. With the end of her high school career approaching, she recalled, "My favorite memory of playing soccer was probably in freshman year. It was the Varsity Team's home opener and we were playing against some old teammates. I scored the first goal of the season with an assist from my best friend."
   In addition to the lessons she has learned and fun memories she has made, Balagtas can a credit her positive experiences to the friends she made along the way. "I was able to make friends from different grades and with people I probably wouldn't have otherwise met," added Balagtas. Senior Teammate Erin Gillum, noted, "She has been my best friend throughout high school, so we have grown together and made so many lasting memories. We have both helped each other a lot to get to where we are today."
   Balagtas's kind and friendly attitude towards her teammates left a memorable impression; Gillum explained that she is a great leader both on and off the field, and in finding individual success, she always kept in mind what was best for the team. "She contributes to the team by being a great role model for the underclassmen and even guiding the upperclassmen in the right direction if and when needed," said Junior Kassy Ortiz. Balagtas's teammates also view her as a role model due to her devotion and passion towards the sport. "I think that Cami's dedication to whatever sport she's playing makes her stand out. I've seen how she fully immerses herself into that sport and works hard to improve," said Junior Meredith Olney.
   Balgatas' exceptional work ethic has also been noted by her coaches. Field Hockey Head Coach Amber Zimmermann shared, "During the past four years, I have witnessed her dedication to improve herself and challenge her limits. She puts in the work outside of practice to improve her skills and endurance. She is self-motivated and excels at the goals she sets for herself."
   Even in juggling three sports throughout the school year, Balagtas made it a point to stay on top of her studies. She was even named All-Academic Team San Diego Section Scholar, which honors student athletes who maintain a high grade point average [GPA]. It is almost unbelievable that through overlapping seasons, late practices, and game-filled weekends, Balagtas maintained a 4.6 GPA. Senior Teammate Catie Bride added "She's an amazing student. It is incredible that she always finds a way to balance school, sports and friends."
   In the end, Balagtas decided to turn down the athletic scholarships she was offered and chose to attend college for academic reasons. However, with sports forever holding a spot in her heart, she plans to continue competing in any way she can. "I am going to University of California, Davis in the fall, and I plan on trying out for the Women's Soccer Team [as a walk-on] or for their Club Team," said Balagtas.
   Game after game, Balagtas was able to succeed due to her love for the sport and incredible drive to keep improving. Moving forward, this star athlete will leave UC High with incredible team memories, academic accomplishments, and a promising future.