Harding Jumps into Her Senior Season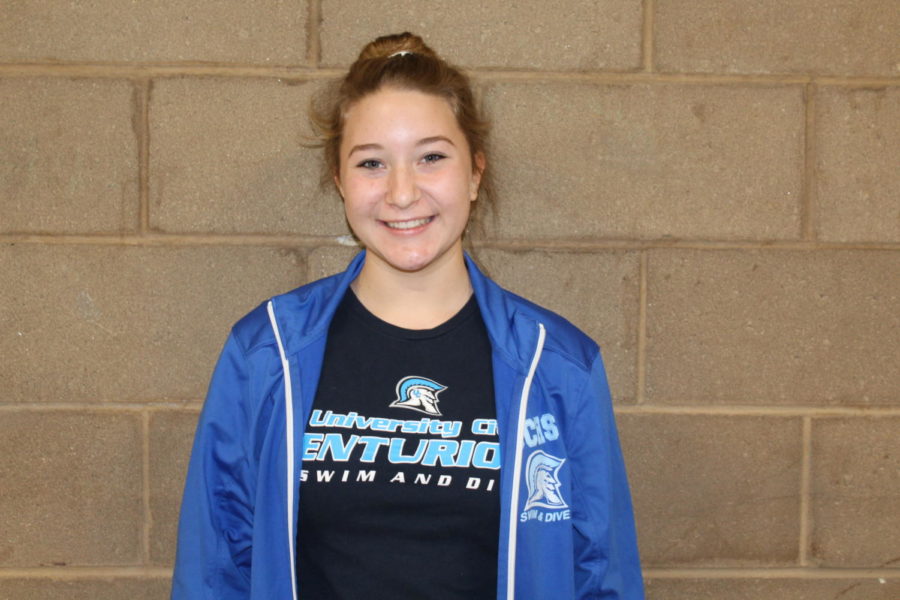 Rebecca Garcia, News Editor
March 1, 2019
  Diving into the new year as UC High's Swim and Dive Team Captain, Senior Michaela Harding hopes that her last year on the team is one to remember forever.
   With a background of eleven years of gymnastics, Harding decided to try dive and see how she'd like it during her freshman year. "Being a part of the Dive Team these past three years has been nothing but a fun experience for me, and I can't wait to see how the season will turn out," stated Harding. "I hope to make my sister proud and continue her legacy as she originally started the Dive Team," she added.
   With losing members each year and trying to accomplish new goals as a team, Harding hopes to make it to City Finals and possibly CIF. "As a captain of the team, I wish that everyone tries new skills and wants to get better each practice. Since we lost two seniors who were amazing divers, my goal is to fill up their shoes this year and recruit new members for the team when we seniors leave this upcoming year," Harding stated.
  According to a website about diving, the divers climb to a diving board ranging from 3 to 8 meters in height and jump into the water of a swimming pool. They display various artistic movements in the air such as rotating, spinning, somersaulting or remaining absolutely still, for example. Divers must focus on figuring out the complex geometry of their dives in order to perfectly execute them. Once completed divers are then scored (nfhs.com). The artistic moves of the dives are scored on a scale from zero to ten, with the average high school diver usually earning a score of six to seven, according to a website about high school diving (theconversation.com). All of these factors make the sport incredibly difficult and competitive.
   Despite the competitive nature and pressure, Harding continues to earn high marks, her best diving scoring a 7.5. She did mention that the pressure can be mentally straining. "I sometimes have mental blocks that make me psych myself out, and I end up not doing so well on a dive, but I hope to work on that so I won't have any of those this season," said Harding. Maintaining a positive mindset throughout everything seems to be the best thing to do.
   As the days before a meet get closer and closer, usually the day before, divers will write out their list of dives they will be performing at the meet on dive papers. "After going through our lists about three times, our team will work on the more challenging dives while our coach will give us corrections for us to fix," said Harding.
   According to Harding wishes to possibly continue diving beyond the high-school level if she gets any offers from colleges, but as of now just wishes to enjoy her time on the team. With being on a team, it is like having another family, and saying goodbye to your family is one of the hardest things that Harding will have to face at the end of the season. The friendships she's made throughout her high school career have been cemented through a common passion for the sport and camaraderie.
   "This team means a lot to me and I'm going to miss it. It is nice to see how well everyone gets along with one another, how comfortable we are [with one another], and all the friendships that are made both in and out of the pool,"  Harding expressed.