Staff and Students Celebrate Vice Principal McGlin's Tenure at UC High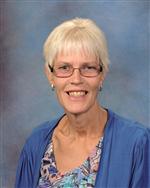 Vice Principal Jo McGlin: A staple at football and basketball games and seen often traveling through the quad during lunch, talking to students or beautifying the campus. McGlin was always doing her part to make UC High a better school; whether it be by welcoming and looking out for new students, or checking in on students to make sure they were doing well. After seven years serving at UC High, Vice Principal McGlin has decided to retire, to spend time with her family and new grandson. She will be sorely missed by the school community at UC High.
   Positive words and thanks have poured out from UC students and staff on the online bulletin board on Padlet. One student stated, "Thank you for everything you have done for [UC High] and for all us students." Plenty of messages also came in thanking McGlin for her work with the UC High Music Department and Special Education. Another entry even stated that McGlin's time at UC had taught him or her a lot and that she should consider political office one day. Senior Elle Truchan stated, "You can tell that [McGlin] really cares about the well-being of students and staff alike, and that her first priority was to create a positive environment of growth at our school. I am very grateful for all she has done for our school community." McGlin clearly left a huge impact on many different programs that make UC High great. Her absence will be truly felt and she will definitely be missed.
   Principal Jeff Olivero echoed the UC students' thanks and kind words about McGlin and the important work she did at UC High. Olivero stated, "Ms. McGlin has passionately supported students and staff." Olivero continued, "One major responsibility [McGlin headed] has been keeping students and staff safe by overseeing the school's site safety plan."
   McGlin also oversaw the department of Special Education at UC High. According to a national publication on education, Special Education programs in schools across the nation too commonly don't live up to even their legal requirements (hechingerreport.org). UC High has a Special Education program that features a multitude of services and programs to help each student succeed. "I loved helping develop educational plans so that all students would have the tools and support to be successful. I have always believed that UC does not have Special Ed students; we have students that all learn at function at different rates," McGlin stated. It is that motto and belief that shows how much McGlin cares. Kind words are nice, but the fact that McGlin's work truly changed lives is the real headline. That isn't something everyone can say, and how much UC High has needed the work that McGlin has done to be the school is today is undeniable. While "we wouldn't be the same without you," might be a cliche when someone retires, in this case it is rather appropriate.
   McGlin said that she is very grateful for all the support that everyone at UC High has always shown her and has always enjoyed the school spirit that UC students have shown around campus and at sporting events. "The UC community has always come together to help both our students and staff. Of all the schools I have been at, UC is the best," she said. "I loved watching the students transform into young adults with dreams and goals," she added.
   Vice Principal Alex Villalobos, who could always be seen in costume with McGlin during Halloween Spirit Week also shared some kind words. "Thank you for your warm welcome over two years ago and for showing me 'McGlin's Way' of doing things at UC! You are an amazing office partner and I will miss you dearly. You will forever be the Snow to my Charming and the Sandy to my Danny!" Villalobos said.
   Former US President John Quincy Adams once said, "If your actions inspire others to dream more, learn more, do more, and become more, you are a leader." By that definition McGlin is and was a leader at UC High.
   McGlin stated, "I want to thank everyone for all the love, fun times, and memories they have given me. I'm sad to leave but excited to follow many of the accomplishments the students will achieve in the future." Mrs. McGlin, you changed UC High for the better and helped mold it into what it is today. Your work is so very much appreciated, and you are a piece of those students' achievements. You inspired; you challenged students and helped us grow.  So thank you for everything. UC High will miss you.