Casas De Luz Completes New Build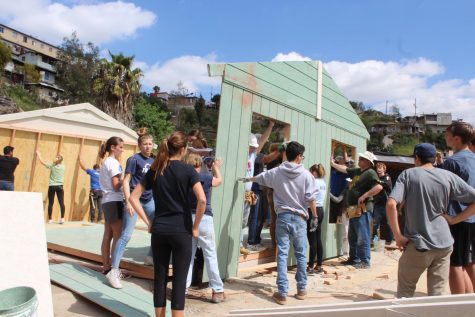 UC High's Casa de Luz Club helps underprivileged families in Mexico by traveling south of the border to build houses for the community throughout the year.
UC High Science Teacher Leslie Wymer is the club advisor. She stated, "Casa's de Luz's whole purpose is to raise money, go down to Mexico and build houses for people who don't have enough money for homes."
According to the Casas de Luz website, the program has built over 90 homes, and receives support from master carpenters throughout the building process (casasdeluz.org).
The club went down to Mexico earlier this month on March 7 and 8 and built a home for a family of five in Tijuana, Mexico. According to UC High Senior Club President Summer Camporesi, "The club [at UC High] was started four years ago. The first year we built a house for a family. Then the second year, we built the foundation for a community center. The following fall, the second floor of the community center was built, and then the next spring, another home."
Wymer added, "I went down the first year I was an advisor," she said. "It was a very cool experience. It is very cool that [students] are so involved in this club."
The club raises money through asking family members and working with the Snapraise fundraising program. "Our club goal is to raise enough money for one house each year, 4,500 dollars," Camporesi stated. This year was a big fundraising year for the club as they raised enough money for two builds.
For each build there are 30 spots for participants. This year marked the first time that all 30 spots will be filled by UC High students. Camporesi noted, "We meet in the school parking lot early and head down to the build site. When we get there, only a concrete slab is there."
The work is split up into groups of people doing many different important tasks: painting, foundation, framing, roofing, trusses, furnishing, and anything else that must be done (casasdeluz.org). "We have tamales for lunch, and when we leave later that night, the walls are put up," Camporesi said.
For past builds, the group has stayed at a nearby orphanage, playing games like soccer and cards with the children. Wymer described the experience of staying in the orphanage as simply "amazing." This year, however, the group is staying in the community center that they built two years ago.
Camporesi explained that going to an area that is so different from home can be difficult. "The surrounding areas really make you appreciate what you have. Other homes are falling apart, trash is everywhere, and stray animals as well," Camporesi said.
Wymer stated that it might be a good experience for kids to be exposed to a different lifestyle than they are used to. "It [Casas de Luz] is going to open every kid's eyes up to people who live in lower economic levels and that need this help. It's pretty amazing that these kids are willing to spend their time going down to another country and building a house on their own time," she stated.
"The club is a great way to put your life into perspective, as well as meet new people or hang out with those you normally wouldn't outside of school. It gives everyone an experience they will remember for the rest of their lives," Camporesi stated. Casa de Luz meets every other Thursday in Room 444.