Aaron Price Fellows Program Prepares Highly Motivated High School Students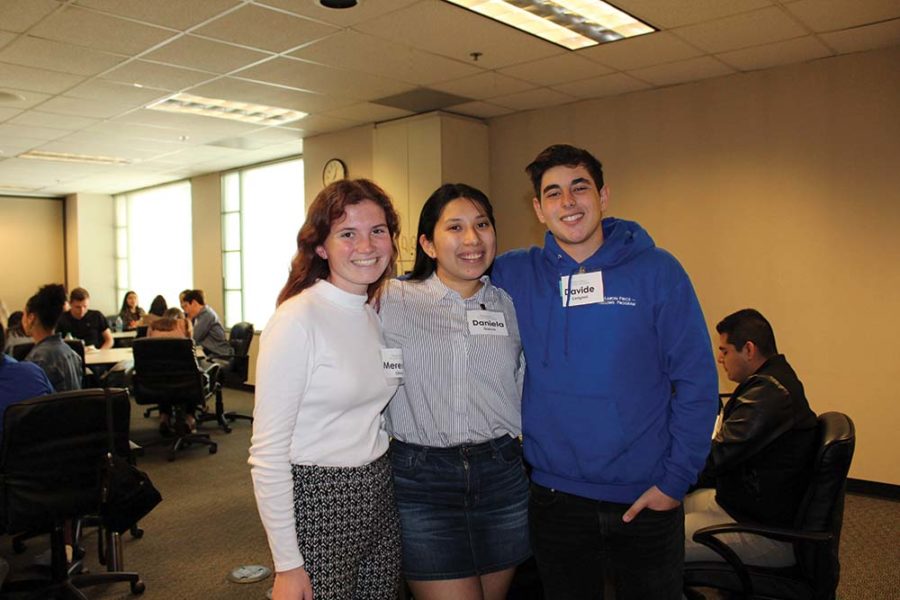 The Aaron Price Fellows Program gives motivated high school students a "behind-the-scenes" look at different governmental, cultural, business, and non-profit organizations, providing them with an opportunity to get involved in their schools and communities.
   According to the Aaron Price Fellows Program website, the mission of the program is "to prepare a highly motivated and diverse group of San Diego public high school students to be responsible, engaged, and caring members of their community." This happens through teaching fellows about various organizations and exposing them to different and exciting career opportunities. Some programs held by the fellows include visits to Balboa Park, San Diego City Hall, the Old Globe Theater, and the KPBS News Center (aaronpricefellows.org).
   The program was started by Sol Price in 1991 as a legacy to his fifteen year old grandson, Aaron, who lost a year-long battle with cancer. The program was designed to pass on Aaron's interests and values to future high school students. The program currently has over 1,000 alumni, making a positive impact in their communities (aaronpricefellows.org).
   Aaron Price Fellows Executive Director and Class of 1991 Alumna Annie Lyles was a member of the inaugural Aaron Price Fellows class in 1989. She stated, "I had the amazing opportunity to go from a fellow, to a facilitator, and then to an administration member." Lyles continued, "…to serve the program that inspired me, to get to work with teens and local leaders in my hometown is a dream come true. It's an honor to share what I've learned and to learn new perspectives from the next generation of fellows."
   One of the most valuable aspects of the program is the friendships created by the fellows. "It is amazing what you can accomplish when you have a group of friends by your side," Lyles stated. Senior Andrea Tran explained, "I chose to join the program because I knew it would allow me to meet students from different schools and backgrounds."
   Another important aspect of the Aaron Price Fellows Program is getting out into the community and going to different organizations. During the summer of each fellow's freshman year, they go to an orientation camp which is located in Julian, California, where they meet others who are also in the program and take part in a number of different workshops and activities. Fellows begin their sophomore year with a trip to the University of Southern California Wrigley Institute on Catalina Island where the fellows get the opportunity to learn about important environmental and marine issues (aaronpricefellows.org).
   The final year of the program begins with a trip to Washington D.C. in the summer, allowing fellows to meet with elected officials, tour important sites and monuments, and get an inside look at the federal government. In their junior and senior years, fellows also get help with college applications and hone skills such as  public speaking (aaronpricefellows.org).
   Through the program, fellows are able to go behind-the-scenes at various organizations and see how everything is operated. "It is interesting to meet new people with different careers," stated Tran. The program also helps fellows become better people and active members of their communities. "The program has really encouraged me to improve my public speaking skills. I've always had a huge fear of it, but the program has provided me with so many opportunities to face that," Tran added.
   The fellows take inspiration from the programs they attend during their time with the program. "When we went on our Washington D.C. trip this past summer, we were able to meet with Congressman John Lewis, who is a civil rights activist and actually worked with Dr. Martin Luther King, Jr. He spoke so well and was so inspiring," Tran said.
   The Aaron Price program accepts forty students from six high schools in the San Diego Unified School District — UC High, Morse, Point Loma High, San Diego High, Lincoln High, and Hoover High — each year to become part of the program (aaronpricefellows.org).