Social Media's Impact on the Music Industry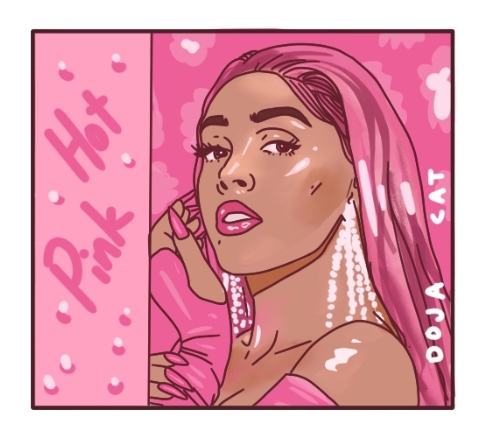 How do you discover new music? Do you hear a song on the radio and look it up after, or does a friend play something for you that you really like? Or do you hear a song on social media apps, like TikTok, Instagram, or Twitter, and search the comments section to figure out what you just heard? Recently, up-and-coming artists have greatly benefitted from having their content used on social media for dances, Internet trends, and even memes, where millions of people could potentially hear their songs. This virtual relationship has been the origin story of some of the most popular songs and artists within the past year, and has become the music industry's newest hit-making machine. 
   Tiktok, the popular video sharing platform, garners a lot of attention for its use of music, and more recently has a reputation of popularizing future hit songs. Arguably the most famous cases of TikTok familiarizing audiences with songs is Lizzo's 2016 single "Truth Hurts" and Lil Nas X's record breaking number one song "Old Town Road," both of which earned the top spot on Billboard's Hot 100 song chart (billboard.com). Both songs were heavily used in videos on TikTok prior to amassing popularity with mainstream listeners. The success of the two songs paved the way for rising stars to get their music out to the general population without having to already be well known or backed by a big record label. Junior Lily Bates agrees that TikTok is a gateway to a broader audience, "Singers can reach more people and grow with a greater audience because they reach several demographics on the app."
   Lizzo and Lil Nas X were both relatively unknown artists before their quick rise to fame from TikTok. Most likely it wasn't Lizzo's intention to gain mainstream popularity three years after she made "Truth Hurts," despite the gap in time, the song boosted her career. Junior Tess Frazer believes that TikTok allows for artists to get that very crucial first hit of popularity that allows for fame and success to follow. "I think TikTok can give aspiring singers that initial boost towards fame, but they can't just rely on promoting music only through TikTok," said Frazer.
   It's no secret that teenagers are one of the largest consumers of social media, and TikTok is no exception. According to a statistics study in 2019, about forty-one percent of users on the app are teenagers (globalwebindex.com). One TikTok star, Charli D'Amelio, is recognized for choreographing and popularizing short dances to songs, notably Doja Cat's hit song "Say So." The song recently reached number one on Billboard's Hot 100 chart due to its relevance on TikTok, thanks to influencers like D'Amelio (billboard.com). Her success on the app even led to her doing a dance video in promotion of Jennifer Lopez and Shakira's Super Bowl Halftime Show (etonline). D'Amelio is just one example of label companies and businesses utilizing the power that social media influencers have on music. As of May 2020, Billboard's Hot 100 is flooded with popular songs from TikTok videos, and perhaps even more will appear on the chart for months to come.
    Senior Sophia Jimenez, an active TikTok user, not only has a couple favorite songs that she discovered on TikTok, but she has an entire playlist on Spotify dedicated to popular songs from the app. Her playlist includes Doja Cat's "Say So Remix" with Nicki Minaj, Megan Thee Stallion's "Savage Remix" with Beyonce, Lil Mosey's "Blueberry Faygo," and Dua Lipa's "Don't Start Now." Junior Gracey Kim also enjoys discovering songs on TikTok, some of her favorites being "Roses- Imanbek Remix" by SAINt JHN and Imanbek, a song that currently occupies a slot in the top twenty of the Hot 100 (billboard.com).
   But TikTok isn't the only social media app where artists have reaped the rewards of free publicity. According to Vulture, "2018 was the year Twitter went mainstream," Twitter users saw brands, celebrities, and singers resort to memes and Internet humor as a way to plug their own content. This was critically important to singers, however, fans started also making memes and edits of their favorite artist's songs. Within the last year, Nicki Minaj's 2012 song "Roman Holiday" was used in memes on Twitter because of Minaj's over-the-top lyrics and vocals and the song's wacky sound. According to The Fader, the use of the song in memes generated by Nicki Minaj fans is almost, "…a redemption of sorts…" for the rapper. Nevertheless, the song's use in Twitter memes caused it to gain millions of streams in its time of popularity in May of 2019, and even hit the top spot on the iTunes US Rap/Hip-Hop chart, despite being released five years prior (genius.com). 
   As people become more engaged with social media, artists and record labels notice a change in how audiences discover music. Short videos with a catchy hook or chorus have proven to be an impeccable formula for creating the next big song. Maybe the ways songs and singers get famous from now will simply be through a thirty second video with an easy-to-learn dance and moderate social media promotions.