Urquiza Conquers All Challenges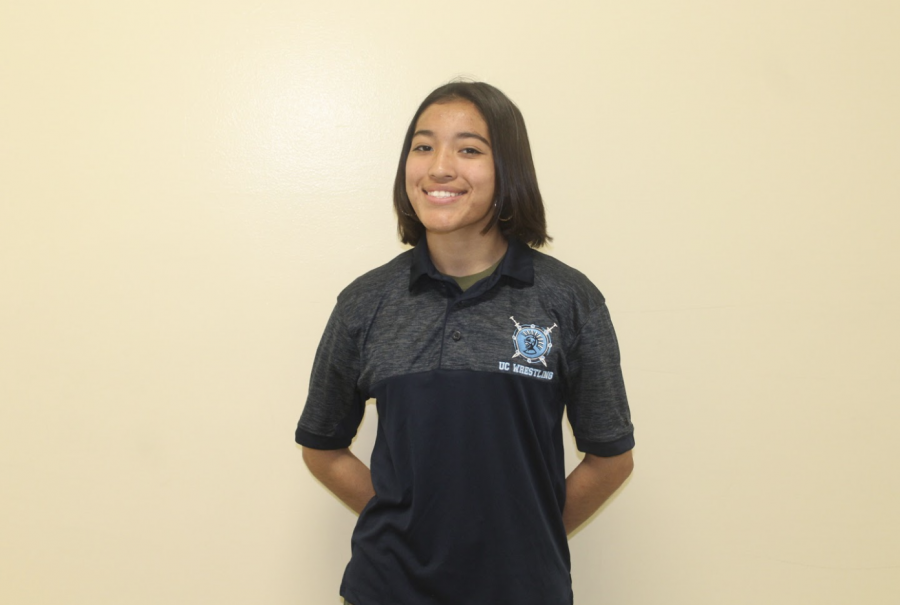 Senior Varsity Wrestler Victoria Urquiza works hard to take down her competition and continue to inspire other athletes along the way. After an action-packed season, Urquiza looks to finish her time at UC High with a win at state.
   Urquiza began her wrestling career nearly three years ago simply as a way to step outside her comfort zone. "I used to be so shy and quiet and I didn't want to be that person anymore, so I decided to try sports to broaden my horizons," revealed Urquiza. Little did she know that this was the beginning of an incredible journey filled with great success and countless victories. Urquiza added that another reason she wanted to try out was to push past the stigma of wrestling being a "boy's sport" and prove that a girl could play any sport a boy can.        
   Since then, Urquiza has spent almost every day working tirelessly to perfect her skills and be the best she can possibly be. "She pushes herself to her limit and then some. She never quits and always puts in 100 percent. For example, she never stops on even the most challenging runs during practice. When all the boys are walking, she's the one still going," shared Junior Team Manager Ava Butler. Senior Jacob Figueroa added, "What sets her apart from other athletes is how hard she pushes herself, along with her drive to keep getting better and better. She's constantly showing me what it means to keep on going no matter how hard things get."
   Urquiza shared some of the many struggles that come with competing, noting "Every day is extremely difficult physically. You're constantly getting injured and bruised up. Also, being small doesn't help. Having to maintain my weight in the lowest weight class for girls is so hard for my body. Sacrificing food to cut weight is truly exhausting." In addition to being extremely physically demanding, the sport requires strong mental fortitude. Urquiza explained that she makes a point of calming herself down and not letting outside pressures get to her so she can be the best version of herself. "She's found so much success in the sport because she doesn't worry or overthink. She's able to push herself and be a great competitor," said Senior Vanessa Rogers.
   As Urquiza works to break the stereotype of wrestling being a "boy's sport" she has learned to tune out the voices of those who do not support her. Figeroa shared, "My favorite memory of Victoria is when she was wrestling this guy from Mira Mesa who was extremely arrogant and had a lot of negative things to say about her because she is a girl. Victoria ended up pinning him and shut him up." Urquiza recalled the experience and added, "Before the match, I was being told that just because I was a girl it would be an easy win for my opponent, which felt extremely demeaning. Luckily, I showed my skill and ended up pinning the guy for the win. The validation of seeing the shocked reactions from his teammates was incredible. It felt so good proving him and his coach wrong, knowing they thought they had it in the bag."
   As challenging as it may be, Urquiza makes wrestling look easy as she's constantly adding to her extensive list of accolades and inspiring other athletes along the way. Last year, Urquiza made history at UC High as the first female wrestler to ever qualify for State. This year, Urquiza makes history once again as she returned to State for the second year in a row. *waiting for results*
   As her time at UC High comes to a close, Urquiza is eager to begin her life outside of high school. As of August 2019, Urquiza is enlisted in the Marine Corps. "Right after high school, I'm getting shipped to South Carolina for boot camp and to earn my title as a US Marine. While in the Marines, I plan on becoming a part of the Military Police and hopefully join their Wrestling Team. I also plan on being a part-time college student to receive a Bachelor's degree in Criminology," shared Urquiza with excitement. 
   With her future in sight, Urquiza looks back at her high school career and is grateful that three years ago she decided to give wrestling a try. With every challenge, Urquiza put forth her best and truly left it all out on the mat.