Current Spring Break Not Long Enough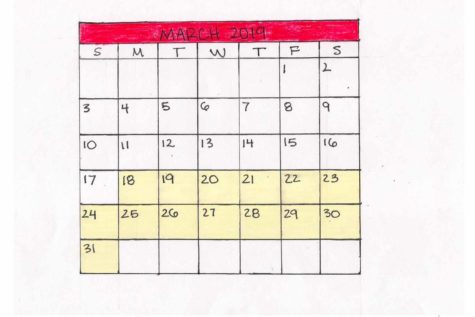 Spring Break is a welcome and necessary time of relaxation for many, as the grueling second semester and fast-approaching final exams weigh heavily on students. But one week might not be enough time for students to truly catch up on everything. Spring Break is the last legitimate break students get before the school year comes to an end, and it should be long enough to accommodate for students' end-of-year needs.
   Currently, San Diego Unified School District schools are allotted one week (including two weekends) for Spring Break, from March 23 to March 29. With finals fast-approaching, and the only other "break" left in the year a four-day weekend at the end of May, this doesn't give students enough time in the second semester to recuperate and avoid being burnt-out for the remainder of the school year.
   Sophomore Olivia Upham expressed, "There's a lot riding on the second semester for a lot of students, as material in a lot of classes typically becomes more difficult. A longer break during the last part of the school year could help students unwind from the stress that accompanies school." With this kind of pressure, it's unreasonable to give students only one week before the end of the school year to recharge.
   A longer Spring Break would also be incredibly beneficial to potential university students. Senior Lauren Stack has planned to utilize her free time over Spring Break to visit colleges she has already received acceptance to and to further her academic pursuits. In past breaks, she has used her time to work on college applications and prepare for assessments. Stack commented, "I will be missing a chunk of school in the coming month to visit colleges. If Spring Break were extended, I would not be forced to miss instructional time." Stack brings up a good point: students are going to miss school for many different pursuits. The extended break could limit the amount of time that students miss by providing a longer time for them to tie up loose ends with college preparations and decisions.
   Some may argue that a longer Spring Break would simply prolong the school year and shorten Summer Break. Though it is true that a longer Spring Break would subtract time from summer, as there is a required amount of school-time per year –180 hours for California schools, according to the Education Commision of the States — an extra week off while school is in session would be more valuable to students (esc.org). But, as Upham voiced, "You're not really going to notice one week gone from your summer vacation. But if you have one more week during the school year to catch up on anything from school work to sleep, that's time a lot more well-spent."
   With so much going on in the life of a teenager, Spring Break should be long enough to give students an opportunity to fully relax. The current length of the break simply does not allow for this. If an extended break were to be implemented, it would allow students enough time to recharge from a hectic school year, get ahead with college necessities, and have a more effective break schedule within the school year.