The Significance of Social Distancing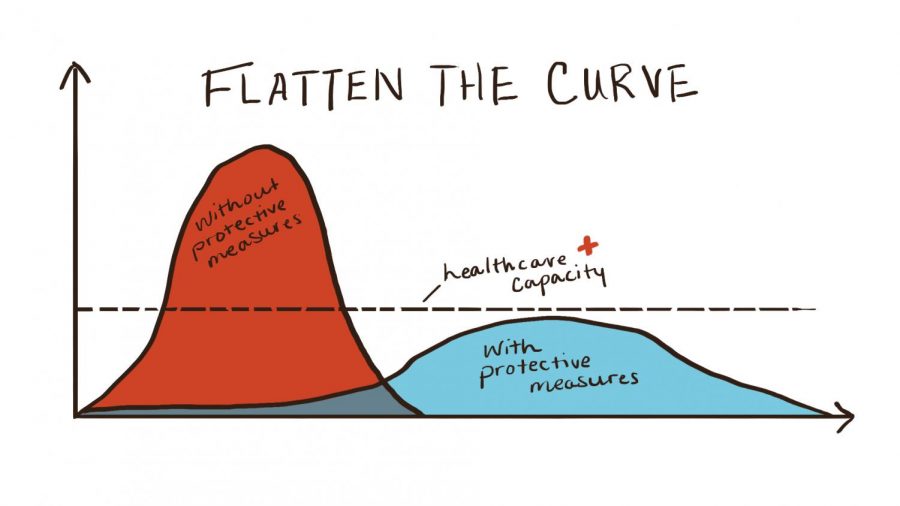 On January 21, the Centers for Disease Control and Prevention confirmed the first case of COVID-19 in the United States in the state of Washington (cdc.gov). On March 11, the COVID-19 breakout was characterized as a pandemic by the World Health Organization (who.int). On March 13, the San Diego Unified School District, with direction from the County  Health Department, closed all schools with the intent to reopen schools by April 6 unless conditions worsened (sandiegouniontribune.com). 
   Sadly, it has been over four weeks and UC High students and staff, as well as most Americans throughout the nation, are still stuck self-isolating at home. With no known end to this COVID-19 pandemic in sight, several preventative measures have become a crucial part of our daily routines.
  One such measure is social distancing. According to the Centers for Disease Control and Prevention (CDC), "Social distancing, also called 'physical distancing,' means keeping space between yourself and other people outside of your home." The most basic guidelines for social distancing are to stay at least six feet from others, not to gather in groups, and to stay out of crowded places and avoid mass gatherings. In other words, everyone should limit close contact with individuals outside their households (cdc.gov). 
  Social distancing is especially vital because of the way COVID-19 is transmitted. A common misconception among people worldwide is that COVID-19 is an airborne disease, when in fact that has yet to be confirmed by health officials. The WHO official website states, "According to current evidence, the COVID-19 virus is primarily transmitted between people through respiratory droplets and contact routes. In an analysis of 75,465 COVID-19 cases in China, airborne transmission was not reported…. In the context of COVID-19, airborne transmission may be possible in specific circumstances and settings in which procedures or support treatments that generate aerosols are performed"  (who.int). 
  Droplet transmission occurs when a person is in close contact (six feet or one meter) with someone who has respiratory symptoms and is therefore at risk of having their mouth, nose, or eyes exposed to potentially infective respiratory droplets (who.int). "When someone coughs or sneezes they spray small liquid droplets from their nose or mouth which may contain virus. If you are too close, you can breathe in the droplets, including the COVID-19 virus if the person coughing has the disease," the CDC states (cdc.gov). 
    The CDC recommends that when around others, individuals should cover their mouths and noses with a cloth face cover or facemask whenever they are out in public. Do not use a facemask meant for a healthcare worker; those should be donated. If you do not have a proper facemask, you can improvise by fashioning a bandana or t-shirt into a facemask using instructions provided on the CDC's official website. According to the CDC, "Cloth face coverings should fit snugly but comfortably against the side of the face, be secured with ties or ear loops, include multiple layers of fabric, allow for breathing without restriction, and be able to be laundered and machine dried without damage or change to shape" (cdc.gov). Just remember, a face cover is not a substitute for social distancing.
  Furthermore, since the disease is primarily spread through droplet transmission, it is possible to get infected through indirect contact with surfaces in the immediate environment of, or with objects used by, an infected person. For this reason, health officials emphasize the importance of proper hygiene; more specifically, washing your hands thoroughly and frequently. The WHO advises individuals to "regularly and thoroughly clean [their] hands with an alcohol-based hand rub or wash them with soap and water" (who.int). Additionally, clean and disinfect frequently touched surfaces — this includes tables, doorknobs, light switches, countertops, handles, desks, phones, keyboards, toilets, faucets, and sinks — daily (cdc.gov). 
   Though these measures have changed our ways of life, for the time being, they are done in the hopes that we may slow the spread of this global pandemic and "flatten the curve." According to an article written by Lisa Maragakis, M.D., M.P.H., senior director of infection prevention at Johns Hopkins, and published on the official Johns Hopkins Medicine website, "Flattening the curve refers to using protective practices to slow the rate of COVID-19 infection so hospitals have room, supplies, and doctors for all of the patients who need care. A large number of people becoming very sick over the course of a few days could overwhelm a hospital or care facility. Too many people becoming severely ill with COVID-19 at roughly the same time could result in a shortage of hospital beds, equipment or doctors" (hopkinsmedicine.org). Senior Tavin Perry added, "It's important that everybody practices social distancing, because it's not just about jeopardizing your health but also the health of others in your community. The more seriously people can practice this, the sooner this quarantine can end."
    As coronavirus numbers around the US continue to increase, officials have watched one specific figure, the doubling rate, to see whether the curve is truly flattening. According to an article from National Public Radio (NPR), the nation "doubling rate"  is "how many days it takes for the number of coronavirus cases, hospitalizations or deaths to double. The shorter the time frame, the steeper the curve and the faster the growth [of the virus]. Longer doubling times produce a smaller, flatter surge, but they also mean the public must continue social distancing to maintain that trajectory" (npr.org). 
   "In an encouraging sign, health officials in several states are starting to see doubling rates slow, which means the curve is flattening. Hospitalizations and deaths are still growing, but not as quickly," explains the same NPR article (npr.org). Additionally, an article from Reuters, an international news organization, states, "Dr. Anthony Fauci, director of the National Institute of Allergy and Infectious Diseases, and other health officials have pointed to declining rates of coronavirus hospitalizations and need for intensive care — particularly in hard-hit New York — as signs that social distancing measures are paying off" (reuters.com).
     Though there is still no definitive answer as to whether or not the United States has reached a peak of COVID-19 cases, these preventative measures have been demonstrated to help slow the spread of this global pandemic.