Local SD Hiking Spots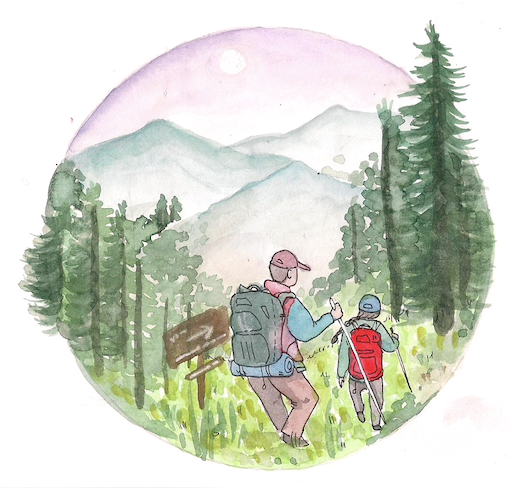 Spring has sprung, and with the cool weather giving way to sunny skies, there are many ways to take advantage of the lovely weather with San Diego's plentiful hiking trails. For those looking to enjoy the sights of Mother Nature over Spring Break, a hiking excursion is just the thing to cure the itch for the outdoors.
The Los Penasquitos Canyon Hike is a beautiful trail by Mira Mesa that can be enjoyed by all. According to the City of San Diego website, the trail includes sights of a waterfall, oak forest, sycamore trees, and many animals (such as deer and coyote), as well as a tranquil freshwater marsh. The trail is about seven miles long with modest slopes, making it a good trail for those looking for a mildly challenging hike (sandiego.gov). With some of the rain that San Diego has had recently, Spring Break is the perfect time to see the flowing waterfall and abundant beauty that Los Penasquitos has to offer.
For experienced hikers looking for a challenge, the Cedar Creek Falls trail in Ramona is an intense but rewarding excursion. According to the Recreation Department, the hike is a rigorous six-mile trail that guides hikers through the tree-dotted hills of eastern San Diego. This trek is ideal for bird watching, and has a waterfall at the end that serves as the fruit of hikers' labor. The falls end in a natural watering hole known as the "Devil's Punchbowl" (recreation.gov). For those who are up for a more difficult journey, Cedar Creek Falls is a scenic trail with just the right level of challenge
Closer to UC, the trails that go through the Torrey Pines State Natural Reserve offer varying levels of difficulty, but equally breath-taking views. "I really enjoy going up to Torrey Pines. It's just so beautiful and it's so close to us; there's no reason not to go for a quick hike," said Senior Orlena Morris. The California Department of Parks and Recreation's website says that this is one of the few remaining places that hikers can see the endangered Torrey Pine (parks.ca.gov). In addition to rare wildlife, the reserve also extends to include part of the coastline, so visitors can take a splash in the waves after a good hike. The trails that meander through the cliffs serve as excellent view-points for catching a glimpse of the great Pacific.
If you're looking to explore the natural scenery of San Diego, look no further than the hiking trails that lay right in our backyard.