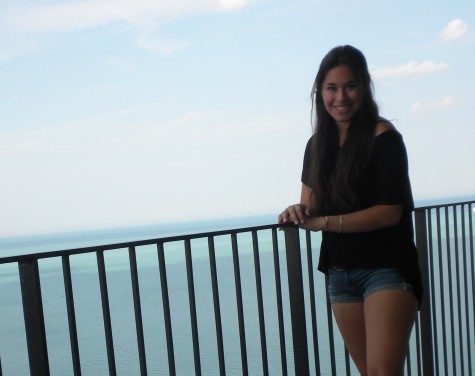 My name is Emily Siegler and I'm Co-Editor-in-Chief of the 
UCHS Commander
.  I have participated in journalism for four years, and have held multiple positions over the years, including Senior Editor of the Standley Middle School newspaper and Features Editor of 
The Commander 
this past year.  I'm looking forward to my junior year at UC High and dedicating much of my time to the paper.
I hope to make 
The Commander
 more interesting and appealing to a wider audience this year. Whether you're a high school student, parent, or faculty member, I believe it is crucial to know about the events, people, and issues in your community. We've switched up the layout and design of the newspaper this year, in hopes to move 
The Commander
 in a more modern, evolving direction. We also plan to broaden the range of issues, activities, and people covered in the newspaper this year, hoping to better represent the diverse UC High community.
When not writing or working on the paper, I love traveling (to places within or outside of the U.S.), playing the violin, running (when it's not painful), sleeping, baking, laughing with friends, listening to various types of music, and going to TapEx and Starbucks.  I also enjoy using sarcasm and finding the sick irony of situations.  When I get a chance I like catching up on shows such as
Grey's Anatomy
,
New Girl
, and
Saturday Night Live
, and pondering the meaning of life.
I'm always looking for input and feedback about 
The Commander
. I would love to hear your questions or feedback about any aspect of the paper; please come find me in Room 226 during fourth period to chat.
Emily Siegler, Editor-in-Chief
Jun 06, 2014

Nicolette Brannan Graduates as Valedictorian

(Story)

Jun 06, 2014

Top Ten Things You Won't Miss About High School

(Story)

Jun 06, 2014

First Annual UC Spirit Run Raises Funds for Sports and Clubs

(Media)

Feb 28, 2014

San Diego Unified to Require Student Bus Fare

(Story)

Dec 20, 2013

After Starting At A Young Age Jordyn McNutt Becomes Committed To A Life Of Soccer

(Story)

Dec 20, 2013

Intense Athletic Attitudes Contribute to Injury Trends

(Story)

Nov 02, 2012

Californians Should Kill Proposition 34

(Story)

Nov 02, 2012

UC High Alumnus Eric Fay Takes Dream to Next Level in STOMP

(Story)

Nov 02, 2012

Beauty Sleep Essential for Student Concentration, not Just Beauty

(Story)

Jun 04, 2012

Vandiver Selected as District Teacher of the Year

(Story)

May 23, 2012

Vision of American Dream Inspired Valedictorian Hailan Pang

(Story)

Apr 27, 2012

Class Sizes Expected to Increase Due to Budget and Teacher Cuts

(Story)

Mar 23, 2012

Entertainment Editorial: The Massive Ego of Mainstream Music

(Story)

Mar 23, 2012

For Laborete, Hard Work Pays Off Beautifully

(Story)

Feb 28, 2012

Sixth Period Athletics Should End

(Story)

Jan 31, 2012

Married Mansfields Keep Making it Work

(Story)

Jan 30, 2012

Spring Articulation to be Completed Online Using Naviance

(Story)

Dec 16, 2011

Bio-Med Program Takes on New Projects During its Third Year

(Media)

Dec 16, 2011

They're the Most Wonderful Kisses of the Year

(Story)

Dec 16, 2011

Patrick Henry Same-Sex Homecoming King and Queen Impressive

(Story)

Oct 28, 2011

Twilight Saga Conclusion a Disappointment

(Story)

Oct 28, 2011

New Club to Celebrate Music of All Kinds

(Story)

Sep 30, 2011

Commander Car of the Month: Izzy Rendon's Radical Ride

(Story)

Sep 30, 2011

Field Hockey Finds Success

(Media)

Sep 30, 2011

Field Hockey Finds Success

(Media)

Sep 30, 2011

Ballard Back and Buried in Busywork

(Story)

Jul 21, 2011

Skip the Heat, Get to a Theatre

(Story)