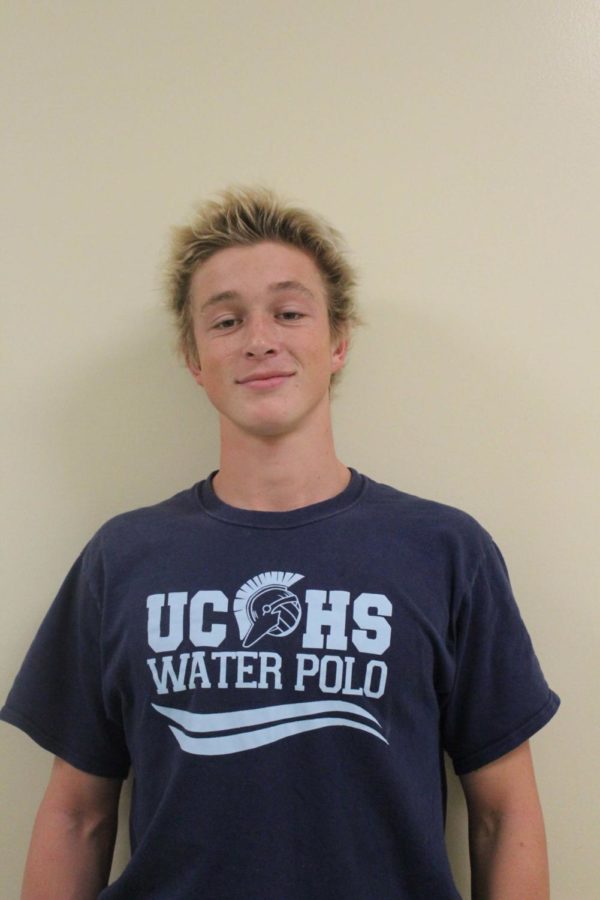 Emma Truchan
"I love the physicality of the sport, because you're always fighting with someone so every game feels like a battle," explained Senior John "Jackson" Cassidy.
   Cassidy began his water polo career at the ripe age of eight years old. "I started playing polo mainly because my mom got me into it, as she is the head coach of Women's Water Polo at San Diego State University [SDSU]. After a while, I fell in love with the sport and I have been playing it ever since," explained Cassidy. "I love that it's in the water and that I get to swim, and also because I don't get sweaty."
    Prior to his UC High water polo career, Cassidy started out at Shores Water Polo Club and has continued to play there during the off season over the last near decade. "It's a great club, because it brings in talented water polo athletes from across San Diego onto one competitive team." He went on to explain how the team has become a family to him which is one of the reasons why he loves it. "Most players on my team at Shores are people that I've played with through countless tournaments and numerous seasons, so we have had a lot of time to bond and grow together. Playing with Shores is great and everyone treats each other like family," he said.
   Cassidy joined UC High's Water Polo Program as a freshman, spending two years on JV until earning his position on the varsity squad. "No one ever starts out good at anything. There is always a lot of practice involved to be good at anything," said Cassidy. He is an impeccable example of the phrase "practice makes perfect," as he is now the team's most valuable asset. "Jackson is our best player both offensively and defensively. When he's hot, we win," explained Head Coach Beto Vasquez. "He's very fast in the water, and he's also very strong. Those two things make him a force to be reckoned with in the pool," he continued.
   One thing Cassidy was most excited about this season was to watch them grow as a team. He explained, "We're a pretty young team and most of our games have been hard." Aside from water polo, Cassidy is also a valued member of the UC High swim team. Typically a water polo player will swim the shorter freestyle events, and Cassidy is no exception. Cassidy explained how although he doesn't like swimming nearly as much as he loves water polo, he continues it to stay in shape for the off season.
   Cassidy has many fond memories of his water polo career thus far, as do his teammates. "One of my favorite experiences happened when we were playing against Classical Academy. I tied the game in the last second by tipping it in with my left hand and it just barely floated into the goal,"  he reminisced. Another one of Cassidy's teammates, Senior Brad Setzler said, "My favorite part about playing with him is his excitement in the water and that he is focused when he needs to be. He's a great captain, because everyone looks up to him and he knows how to lead a team."
   Cassidy is hoping to play in college next year, and is looking into schools such as Chapman University, Loyola Marymount University, and California Lutheran University. "I'd really love to stay in California," he said. His goal for collegiate water polo is to grow as a player. Cassidy explained, "I look forward to developing my playing style in a way I never have been able to before."