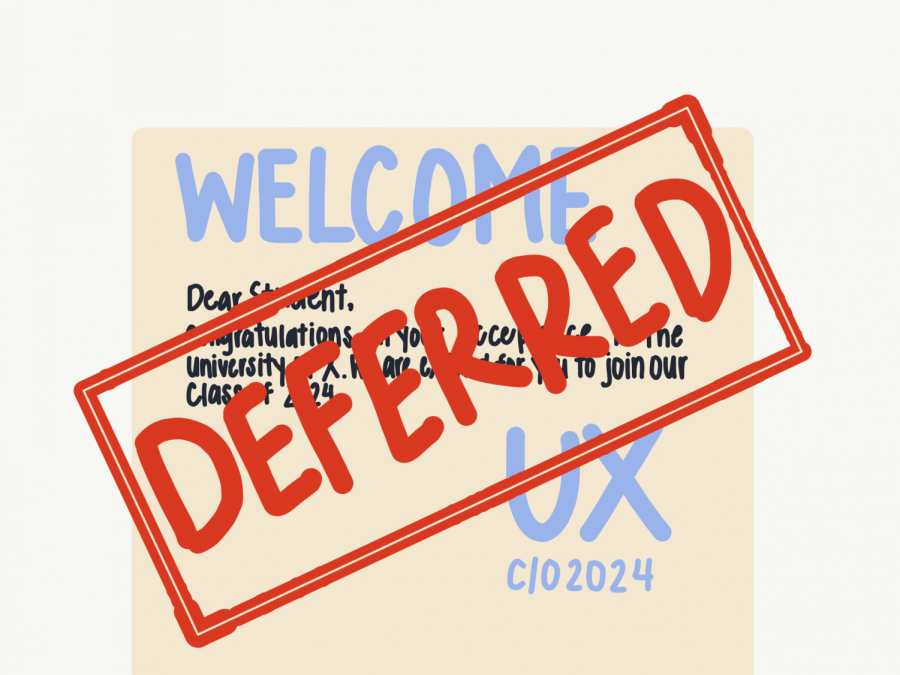 artwork by Emma Truchan
   The Oxford Dictionary defines the word "deferment" as "the action or fact of putting something off to a later time; [otherwise known as] postponement" (lexico.com). This definition rings true with the topic of college deferment, which is when a student requests to put off their admission to a college or university until a later time, typically the following school year.
   In the past, deferment has been a potential solution for students wishing to take a gap year for a variety of reasons,  including traveling or saving money. However, the class of 2020 is facing a very different situation. With the COVID-19 outbreak potentially causing colleges to keep their doors closed throughout the fall and possibly longer, the prospect of online college is daunting for so many. The notion of paying thousands and thousands of dollars for a sub-par academic experience through online learning is not only ridiculous but it is also completely unreasonable. Regardless of the individual rules each college has regarding deferment, the incoming freshman class should be given the option of deferring their admissions until it's safe to resume on-campus learning.
   College deferment rules vary among schools, even in college systems such as the UC Regents. According to a source dedicated to intel on UC Santa Barbara, "Students who wish to defer need to re-apply for the term they wish to attend. The Office of Admissions cannot guarantee that students will be accepted for a future term" (ucsb.intelliresponse.com). On the other hand, UC Davis offers a deferred enrollment program without the need to reapply. "The deferred enrollment program allows newly admitted undergraduate students to postpone their initial enrollment at UC Davis for up to one year. During this time, students can pursue non-academic activities and opportunities that will assist them in clarifying their educational goals…" (ucdavis.edu). Moreover, some schools make decisions about deferment on a case by case basis, meaning your reasons for deferment will affect whether or not you need to reapply. The San Diego State FAQ's website states, "Please talk to your advisor as soon as possible if you need to defer. You may need to reapply to Cal State Apply upon your return" (newscenter.sdsu.edu). According to an article published by Forbes, "Many colleges require that a student first submit an enrollment deposit before considering a deferral request, others simply don't allow students to defer or might cap the number of students permitted to take this path" (forbes.com). While it makes sense that schools have their own policies about deferment, these policies should be waived and students should be given the option to defer without consequences in order to meet the concerns of how schools will be affected this coming school year.
   Not only should deferment be an option due to the challenges of online learning, but also because paying thousands of dollars of tuition does not reflect what the students are getting in return through this online learning. The typical yearly cost of tuition and fees to attend a public 4-year university is 23,890 dollars, states the official College Board website, and that's not even including room and board, books, supplies, transportation costs, or other living expenses and college fees. Can one say, in all honesty, that it's completely reasonable to pay full tuition for a university while sitting at home learning through zoom meetings and youtube videos? Not necessarily. It would be so much more practical if these students were able to defer, get some of their general education courses out of the way by taking online courses at a local community college for a much lower price, and begin their freshmen years when it's safe to be on campus and resume in-person classes.
   Aside from tuition and online learning challenges, what about the experience? Some of the most valuable and exciting parts of college take place during a college student's freshmen year. Freshman year is when students begin to build those long-lasting friendships, join clubs and extracurriculars, and really start growing into their adult selves, none of which can be done in these circumstances. "Deferment should be a more widely accepted option this coming year because it's not fair that we won't be able to experience our freshman year of college on campus," explained Senior Grace Kinshofer.
   While it's true that not much has been set in stone quite yet, and the future of the fall term is still up in the air, the incoming freshman class should be given the option to defer and should be allowed to make that decision when we don't know what the fall will bring. Regardless of whether or not a student wishes to defer because of the extenuating circumstances of the current health crisis, it's more important that students are given the option to defer, and given the option in a way that will not cause any negative repercussions for when they wish to begin school.