Unenthusiastic Centurions Lack School Spirit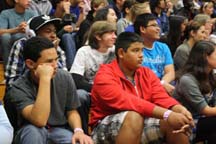 Unity, sportsmanship, confidence, and a sense of community are just some of the great benefits school spirit can bring. It is one of the most important factors of any school; spirit unites students to form a community, as well as instills a sense pride in all of its members.
Unfortunately, UC High does not show enough school spirit, whether during sporting events, spirit weeks, or even pep rallies. It appears that some students and staff are indifferent in regards to the lack of general community on the campus, but many others recognize how much a little change could affect everyone. UCHS clearly lacks a sense of school spirit, but, luckily, with a bit of effort, that can easily be remedied.
"During spirit week, it is a good time for us to show our school pride, but no one dresses up except for the ASB members," said Senior Francis Hoerman. That may be a bit of an exaggeration, but point taken. Spirit week is an opportunity for all of the students to show just how much school spirit they truly have. If everyone dressed up, the school would develop a much-needed sense of unity. Our school could be brought together as a community, establishing a positive, supportive academic environment for all of the students and staff.
Another way UCHS could express more school spirit is by showing up to more of the sporting events. "At our games, there aren't a lot of people rooting for us, unless the game is announced by the school," said Girls Water Polo Captain Martina Hamilton. Senior Joseph Charles agreed, adding, "When people show up to our wrestling matches and cheer us on, it gives us something to fight for and it gives us more motivation." If more people decided to step out of their comfort zone to show up for games and root for their teams, UCHS would soon have a reputation for having both a good sense of community and sportsmanship. Who knows, it could even help the Centurions win a couple more games.
According to The Daily News website, the purpose of a pep rally is to have a time where the whole school body can demonstrate school spirit, supporting each other in a positive manner and bringing confidence to all of the students (thedailypress.com). However, during UCHS pep rallies, the lighthearted, hyped up atmosphere quickly shifts to a negative one. Too frequently students can be heard booing and putting each other down, particularly between the four classes. "I don't like freshman booing at all," said Head Counselor Sherryl Godfrey, "and I don't think it is cool in any way. I know people think it's just a joke but I think seniors should remember when they were freshman." Pep rallies are supposed to provide a fun time for all students. Booing and marked disinterest just brings a sense of negativity to the school.
"I think that our school has enough school spirit; we have more now that Principal Olivero is here. A couple of years ago, our school was dead. We have more energy now," said Godfrey. However, according to Morse High School's website, every Wednesday and Friday of the year is a spirit day, so that each week students can express their school spirit (sandi.net). Although UCHS has gained enthusiasm over the years, compared to schools like Morse, it falls out of the running.
School spirit has to start somewhere, maybe with one person standing up during a game and cheering for their team. Unity, good sportsmanship, a sense of community and confidence are all important factors in a school and school spirit will bring just that. Everyone should be proud of being a Centurion; all they need to do is show it.