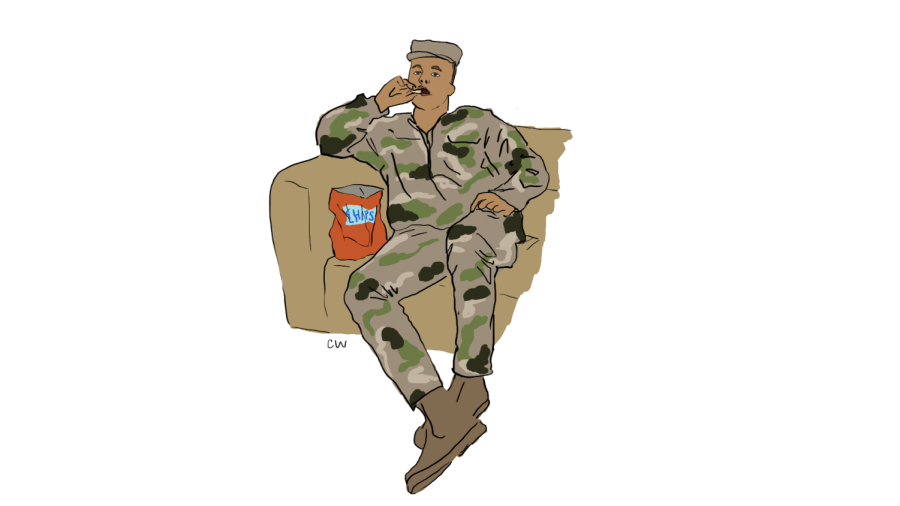 artwork by Caeli Willard
   Among the multitude of industries and programs affected by the novel coronavirus outbreak, national defense and the U.S. army must also adapt to adhere to new guidelines, and that may mean postponing the training of recruits.
   The U.S. Army Recruiting Command announced that of the 1,400 plus recruits on hold because of the COVID-19 pandemic, some may be eligible to be paid as privates under the new Future Soldier to Active Duty Program (military.com).
   The program will pay future soldiers about 1600 dollars — the base pay of an active-duty private — as long as they have had their basic training dates rescheduled based on the virus risk level in their area, according to an April 2 news release posted on the command's website (military.com).
   According to Ms. Lisa Ferguson, a spokeswoman for Recruiting Command, most of these recruits currently live in states with the largest outbreaks of COVID-19, including Southern California, New York City, South Florida and most of New England (military.com).
   According to the head recruiter at Clairemont Mesa Army Career station, Army Staff Sergeant James Macmurry, as of right now no one from his recruiting station has had their Boot Camp ship date postponed due to COVID-19, but that is subject to change at any time.
   According to UC High Alumni and BUD/S (seal team training) student Seman Kody Renly, training has been canceled for about six weeks. The classes have been divided into three different sections to comply with small group orders and only do limited physical training as a team. 
   "All students still must pass a weekly physical training exercise that is based on a pass or fail system. Training is on track to resume at the beginning of May, with classes being three times as big," explained Renly.
    According to former Navy Special Boat Team Operator Rusty Carr, most Naval Special Warfare training exercises and deployments have been postponed due to COVID-19. 
   A mandatory fourteen-day quarantine has been implemented for the operators who are coming back from a deployment or a training mission in order to keep the rest of the command healthy, added Carr
   "I think if we test all recruiters upon entry to Boot Camp for COVID-19, we would not have to postpone training," said Senior Dusty Carr.