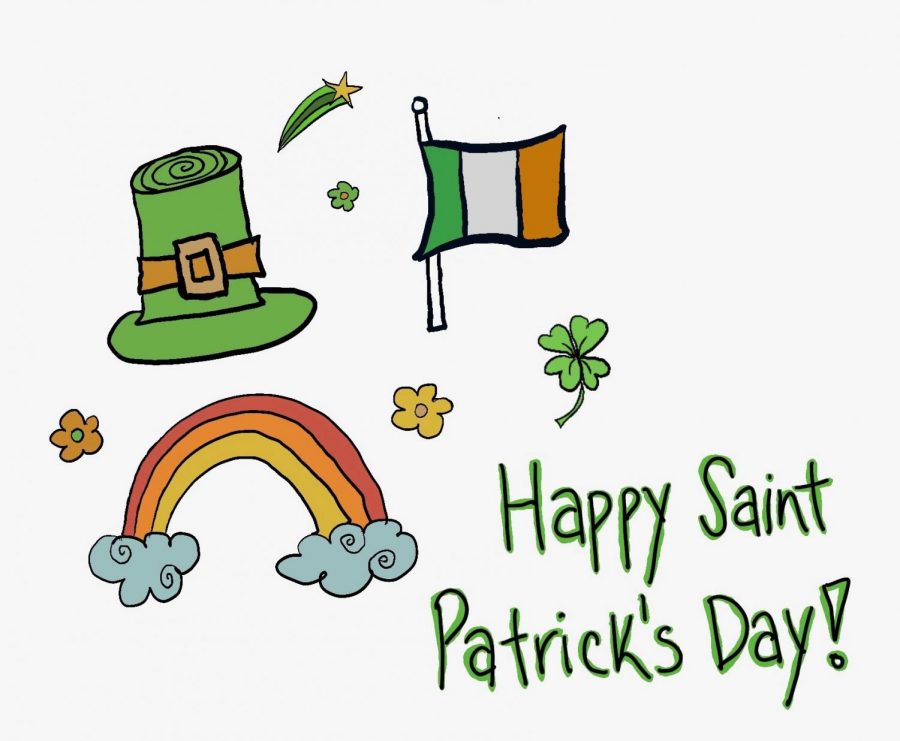 Summer Ingalls
   The month of luck is just around the corner. Every year on March 17, thousands of people put on their greenest garb, march in Irish pride parades, eat clover-shaped cookies, and celebrate St. Patrick. But who even is St. Patrick, and why is he celebrated? 
   St. Patrick, the patron saint of Ireland, is one of Christianity's most widely-known figures. According to the History Channel, St. Patrick was born in Britain — not Ireland! — to wealthy parents near the end of the fourth century. He is believed to have died on March 17, around 460 A.D. At the age of 16, Patrick was taken prisoner by a group of Irish raiders who were attacking his family's estate. They transported him to Ireland where he spent six years in captivity. During this time, he worked as a shepherd, outdoors and away from people. Lonely and afraid, he turned to his religion for solace, and became a devout Christian. He escaped, then returned to Ireland to convert the Irish to Christianity. By the time of his death, he had established monasteries, churches, and schools. Many legends are told about him; for example, that he drove the snakes out of Ireland and used the shamrock to explain the Trinity (history.com).
   The Irish have observed March 17 as a religious holiday for over 1000 years, according to Encyclopedia Britannica. On St. Patrick's Day, which falls under the Christian season of Lent, Irish families would traditionally attend church in the morning and celebrate in the afternoon. Lenten prohibitions against the consumption of meat were waived for the day, and people would dance, drink and feast on the traditional meal of bacon and cabbage.  The first St. Patrick's Day parade took place not in Ireland, but America. Records show that a St. Patrick's Day parade was held on March 17, 1601, in a Spanish colony in what is now St. Augustine, Florida. Enthusiasm for the St. Patrick's Day parades in New York City, Boston, and other early American cities only grew from there (britannica.com)
   The most common St. Patrick's Day symbol is the shamrock. The shamrock is the leaf of the clover plant and a symbol of the Holy Trinity. Religious symbols include snakes and serpents, as well as the Celtic cross. Some say that Saint Patrick added the sun, a powerful Irish symbol, onto the Christian cross to create what is now called a Celtic cross. Other Irish-related symbols seen on St Patrick's Day include the harp, which was used in Ireland for centuries, as well as a mythological creature known as the leprechaun and a pot of gold that the leprechaun keeps hidden, which may be at the end of rainbow near you (timeanddate.com).
    It was primarily Americans who transformed St. Patrick's Day into a largely secular holiday of revelry and celebration of all things Irish. Boston held its first St. Patrick's Day parade in 1737, followed by New York City in 1762. Since 1962, Chicago has colored its river green to mark the holiday. In 1961, sanitation workers realized that the green vegetable dye they used to check for dumped sewage could double as a St Patrick's Day decoration and so a tradition was born. It reportedly takes forty pounds of dye to achieve the verdant hue, while the color can last from a few hours to two days. Although blue was the color traditionally associated with St. Patrick's Day, green is now commonly connected with the day (britannica.com).
    Over the next thrifty-five years, Irish patriotism among immigrants flourished, prompting the rise of "Irish Aid" societies. In 1848, several New York Irish Aid societies decided to unite their parades to form one official New York City St. Patrick's Day Parade. Today, that parade is the world's oldest civilian parade and the largest in the United States, with over 150,000 participants. Each year, nearly three million people line the two-mile parade route to watch, which takes more than five hours (timeanddate.com). The traditions are continued today. "Every year on St. Patrick's Day, my dad and I dress up in all green and go to the  St. Patrick's Day parade and festival. Unfortunately, this year we can't attend due to Covid-19 but we definitely will still wear green!" said Senior Mika Asiag. 
    There are many other ways to celebrate St. Patrick's day without attending the big parades. Parties featuring Irish food and drinks that are dyed in green food color are part of this celebration. It is a time when children can indulge in sweets and those 21-and-older can enjoy a pint of beer at a local pub. Many restaurants and pubs offer Irish food or drinks, such as Irish brown bread, corned beef and cabbage, or beef and Guinness pie. Some people even plan a pilgrimage to St Patrick's Purgatory, which has commonly been associated with spiritual healing since the early thirteenth century. It is located on Station Island, in Lough Derg in County Donegal. This is where St. Patrick had a vision promising that all who came to the sanctuary in faith would receive a pardon for their sins (timeanddate.com).
  Whether you celebrate St Patrick's Day or not, it is always cool to know the roots of a holiday. But if you do celebrate, be sure to wear green if you don't want to get pinched!