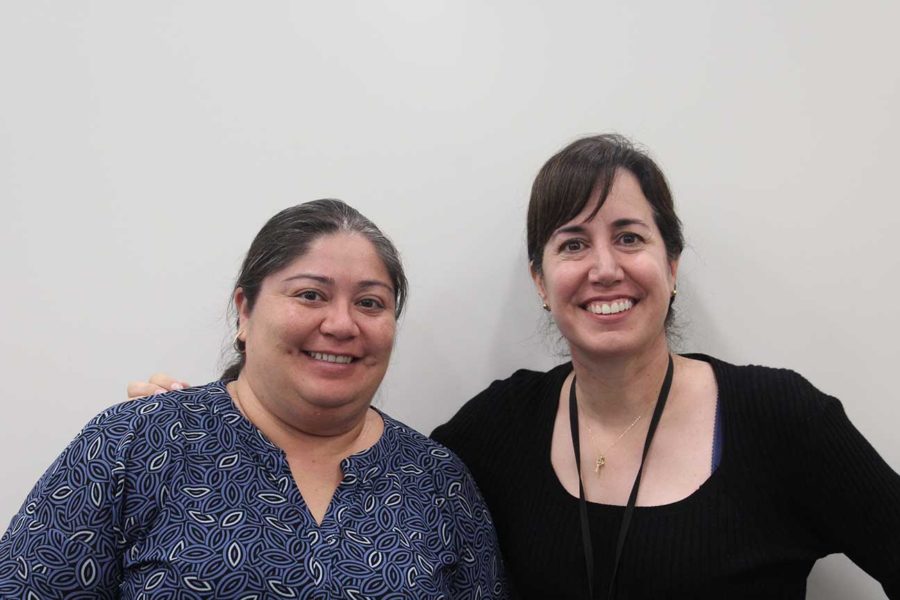 Emma Truchan
Among all the faces you may see in the Media Center, there are two new ones that are hard to miss. Two people with big smiles across their faces as they gain satisfaction from helping hundreds of students each day. New Counselors Kim George and Belen Bahena have joined the counseling team here at UC High.
  Previously both a teacher and coach, George is one of two head counselors for the 2018-2019 school year, focusing on students with last names starting with CF-GO. "My most important job is being an advocate for students and being there for them. Students are my main focus," she explained. George has a great passion for her job. "I love my job, and I love the student interaction," she said, with that big smile across her face.
  Not only does George look to be there for her students and build bonds with them during the school day, she also hopes to experience the student extracurriculars in the after-school hours. "I really hope to get more involved. I'd love to appear at some field hockey games, football games, and games for other sports as well," she said. Being new at the school, George hopes that being part of other aspects of students' lives will give her the opportunity to get to know the students better. With that big smile and a look of passion in her eyes, she said, "I am just excited to be here. We have a great counseling team with a great program."
  Similar to George, new Counselor Belen Bahena loves her job more than anything, focusing on students with last names starting with GR-MA. Her passion can be seen on her face and heard in her voice. "I am here to serve and support the students with anything that they need. Each student is different, and I want to do whatever suits them and whatever is best for that individual student," she said. Bahena loves to interact with the students and it is important to her to be there for them.
    Bahena has a great dedication for what she does. She doesn't see helping students as a job, but more like a hobby. She has been a counselor since she graduated from college and she has always loved what she does. Her drive, dependability, and curiosity are just a few aspects that make her stand out and are why she is always looking to learn something new.
  "I am learning a lot. I have met students with different goals and different aspirations. I love it here, and I plan to be here for awhile," Bahena said with a grin. She is a hard worker and she puts the maximum amount of effort into everything she does. Bahena said, "I never really considered what was hard about the job. I try to do it all. If I have to stay late or work extra hours at home, I will. I really just love my job."
   Next time you're in the Media Center, consider popping in to  welcome our two wonderful and smiling new counselors!