Coming from De Portola Middle School , Freshman Soljan Fjelstad now finds himself working as a staff writer for the Commander. Soljan joined the newspaper because he thought it would be interesting to dabble in the style of writing that working for a newspaper would entail. He has no previous experience with journalism, but looks forward to his future experiences in the field.
Soljan spends most of his time hanging out with his friends and listening to music. He has many different hobbies, so many that he hardly considers them hobbies anymore. A few highlights include writing, juggling, and drawing. He likes meeting new people, but finds the effort involved in socializing a drawback.
Soljan has abandoned some activities most people engage in every day,  like TV, most movies, dessert, candy, eating, and even laughter. Okay, not laughter! He strongly dislikes being photographed horizontally.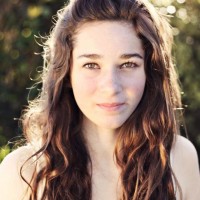 Kate Atkins is a freshman at UCHS. In the summer before starting ninth grade, she tried running with the UC Cross Country Team and loved it. She ended up making the Varsity Team and is one of the top ten freshman runners in the Western League. Her personal record for a 5k (3.1 miles) is 21:04 and her 10k (6.2 miles) is 44:53.
Along with running, Kate also takes dance classes at Creative Dance Theater in Clairemont. She has been dancing there since 2007 and has tried out many different types of dance, like hip hop, cheer, jazz, tap, modern, ballet, and pointe ballet. She is also in a preforming group called TOPs (Team of Performers). They perform original choreography at festivals, fairs, community centers and more.
"Dance is my passion. You can convey feelings or a story through movement without having to say a single word. I love performing, because I like to see the reactions of the audience. There are often many smiles, whether they are happy or somber," said Kate.
She aspires to be a fashion designer or model, maybe even both. "I want to design, because people first judge by looks. That might seem shallow, but it's true. The clothing you wear should show your personality and let people know who you are as an individual. I want to help people express themselves visually."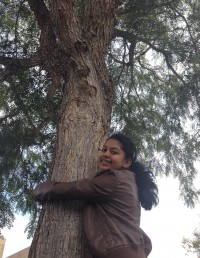 Pranaya Anshu is honored to be a Commander Staff Writer for the 2012-2013 school year. She joined Journalism in hopes of putting her writing urges to use. "Some people get random urges to eat chocolate… I get random urges to write," said Pranaya.
When she isn't reading, writing, or being suffocated by homework, Pranaya enjoys listening to music, drinking hot chocolate, sketching, downloading useless apps, traveling, spending time with her family and friends, and playing tennis (she is team player on the UC High Girls Varsity Tennis Team). She is also the founder of a children's art program at the North University Library and a member of one too many clubs.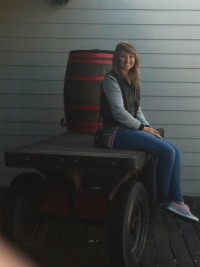 Although Hata Velic has only recently started embracing the art of writing in recent years, she has quickly excelled and has put forth her full potential in her journalism class. Velic was born in Weimar, Germany, but moved to the US at the age of one. She was never able to experience Germany, but was fortunate enough to visit Bosnia when she was ten. One inspiration for her to write is that experience, as she was able to open her mind and embrace the different culture.
While growing up in California, Velic realized that she had great opportunities ahead of her, and in the future would be able to relish these opportunities by increasing her knowledge through colleg. Velic has always been very involved with school. She took part in ASB while she was in her middle school years as well as a program called WEB, where she and the other eighth-grade students went into sixth grade classrooms and taught the sixth graders about being a tool for change. She is interested in helping the community.
Ever since Velic was seven years of age, she has enjoyed performing in front of others. Velic took ballet lessons for about a year at the Balboa Park Civic Theater. She then followed with gymnastics at Victory Gymnastics Academy for about three years, and was taught many fun and useful tricks. For example, using the high beam to do handstands and cartwheels, along with back handsprings. When Velic was in the fifth grade, she auditioned for the school play and got the part of one of the main characters in Hansel and Gretel, the witch. After fifth grade, Velic went to the Creative Performing Media and Arts Middle School where she learned and practiced many different dancing styles for the full three years. She continued to do ballet, and added jazz dancing, tap, hip hop, and modern, and eventually was able to make it to the Advanced Dance class in her eighth grade year.
Not only is Velic interested in the performing arts, but she is also planning to use performance in her dream career as a sports journalist. Although she has only participated in journalism her freshman year so far, she is planning on continuing it for the rest of her high school career, and hopefully will make it a profession in her future.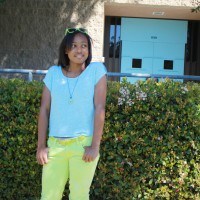 Meet Karyssa. She's a freshman and staff writer for the Commander newspaper. She enjoys reading and writing and hopes to one day become a successful journalist and novelist. When you take the time to get to know her, you will find out many things you wouldn't expect. She's a girl full of surprises.
Along with her love for literature, she has a mad passion for fashion. She loves to go shopping and is always looking for ways to express herself through her clothes. Whether she feels like preppy casual or edgy, she always ends up looking fresh.
She also has a love for the arts. There is somewhat of an artist in her. She enjoys sketching and painting and also designs fashion. There's not a page in her backpack that isn't covered with little doodles. Music is another passion of hers. She literally cannot survive the day without some kind of music. Her favorite genre at the moment is alternative, but "anything but country" would suffice.
Karyssa is a girl with dreams. She strives for the best and is determined to make it big in this crazy world. One day you'll be seeing her books on the bookshelves and reading her magazines in the checkout lines of the convenience store. Though she's serious when it comes to the books and school, catch her out of the classroom and she's a ball of excitement and is always up for a little fun and games.
Every now and then she has a surprising moment, like running into the hallway door. You should probably know she's a little clumsy, and is always tripping over her own feet. In the end, Karyssa is a lot of things. She's spontaneous, and funny, and mysterious, and so many other things. She's different, but in a good way. She's not your typical. But if you want to know more… you'll have to ask her yourself.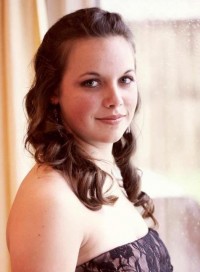 Senior Taylor Vinzant is a spirited individual who loves being outdoors. She enjoys camping, hiking, and going to the beach. When she isn't exercising, she enjoys napping and trying new foods. Her favorite restaurants are Sushi Deli and Apollonia Bistro. Family and friends are extremely important to her.
Her favorite book is The Lovely Bones. Taylor hopes to one day be a world traveler. She would love to visit Italy, Brazil, and Ireland. Her goal is to go to Cal Poly, San Luis Obispo and study to be a speech pathologist.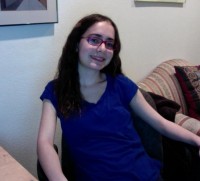 Jessy Barham is a fifteen-year-old girl who loves to write stories.  She began her writing frenzy in first grade when she wrote stories about her dolls. As the years went by, Jessy's writing improved and became more serious.  Some of her favorite novels she's written are as follows:  Witchcraft, the story of a quiet twelve-year-old girl, Amanda Mitchell, who discovers that she is a witch, which causes her to realize her true potential;  Mattie Patterson 1849, about Mattie Patterson, a wealthy thirteen-year-old girl living in London at the time of the Gold Rush.  Her father loses a majority of his money in the diamond mines in Africa, which causes them to have to leave their house.  They move to California, hoping to regain their fortune. Jessy aspires to become an author.
Jessy also loves singing. She discovered she liked singing in fifth grade. She sang pretty well, but her voice was too quiet.  She also got nervous singing in front of many people. To get over her fear, she started taking singing lessons at a school in La Jolla.  During the four years, Jessy's singing has improved dramatically. Now she sings much louder and clearer, and is more comfortable singing at recitals. Jessy's favorite genres of music for singing are musical theater, indie, jazz and country.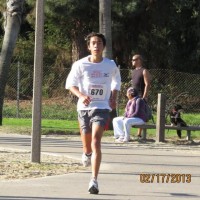 From the first day of journalism, Allen Siegler had a very large legacy to live up. His sister, Emily, is the editor in chief of the paper and the main reason he signed up to be in the class. Allen did not know if journalism would be the right match for him, but it turned out to be a nearly perfect one. He was the first freshman to be accepted onto the journalism staff this year, and has proven his worth to The Commander by covering many important issues about this school. He is also a proven photographer and can always take a snapshot for the paper when needed.
When not writing articles, Allen spends most of his time playing a number of sports. He was a starter for the JV Water Polo Team last fall, and played club water polo for San Diego Shores Water Polo 16U's Club during the winter. Allen hopes to make varsity track and field in the spring for his long distance running ability. His planned events include the 800 meter, the 1600 meter, and the 3200 meter. When not busy juggling his different teams, Allen likes to relax by hanging out with friends, surfing at the beach, or playing pick up basketball games in his neighborhood.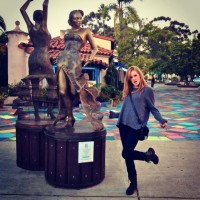 This is senior Reid Atkins. This is her first year being on the journalism staff at UCHS. Her favorite classes this year are ceramics and psychology.
After high school, Reid intends to go to SDSU and earn a BA in Studio Art. For as long as she has known, she has wanted to pursue art. Although many people spectacle about how she will find a decent career with an art major, she knows it doesn't matter as long as she is doing what she loves to do.
Reid also works at a local restaurant in Pacific Beach called Café Athena. There, she is the hostess on the weekend. "I love my job and all the people I work with," said Atkins, "… it is stress free and I get good tips." She has only been working there for about three months.
Basically, Reid does what makes her happy and no one is going to change that, son!
Emi Z tends to write long articles…. This one will be short, relatively speaking.
Emi is a freshman staff writer for the Commander. She had a lot of fun in journalism at Standley last year.
Issues involving wildlife interest her, such as whether the seals at the Children's pool should be left alone or not.
Emi plays the clarinet and flute. She likes spending time with her family, and especially playing with her cats.
Emi enjoys crocheting and doing craft projects. She likes being creative. She likes to read fantasy if she has time.  If she can get ahold of a camera, she likes to take many photos, so the perfect, one-of-a-kind photo is somewhere in the camera's memory. She would like to be good at gardening and thinks it would be great to be ambidextrous (which she's not).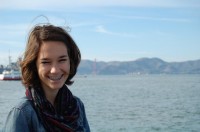 Not many eleven year olds read Time magazine cover to cover on a weekly basis, but UCHS News Editor Riley Wilson did, and continues to five years later. It came as no surprise when she became interested in investigative journalism and writing. Riley got her start in journalism in seventh grade at Standley Middle School, and has loved it ever since. After being a staff writer and photo editor, Riley decided she wanted to try something different, and now is a coeditor for the News page. She loves to edit the increasingly interesting and intriguing articles or the News page, but most of all she enjoys being a part of a newspaper staff with a passion for writing and an affinity for potlucks.
When she's not writing or editing articles, Riley enjoys playing field hockey, laughing with (and occasionally at) her friends, daydreaming, sleeping, reading fashion blogs, procrastinating, drawing, painting, eating, catching up on the latest episodes of Criminal Minds, and being sarcastic and snarky. She stands firm in her beliefs that travel, laughter, and making funny faces are the best medicine, bucket lists are invaluable, and life is too short to limit how much food one eats.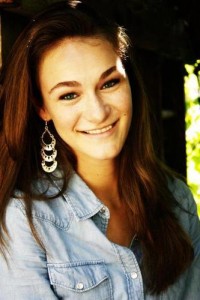 Hey there!  My name is Olivia and I'm a senior at UC High.  This year will be my second on the Commander staff, and I'm excited about moving up from a writer to a Co-Editor of the Features page.  I cannot wait to have a bigger role in my favorite section of the school newspaper!
I have a love of writing that I found to grow after I joined the Commander staff in my junior year. I had no idea what I was going to do as a future career before I decided to take the class, but I now feel confident about beginning to work toward gaining a Communications degree in college next year!
Other than being a part of the school newspaper, the biggest parts of my life are dance, church, and family.  I am currently a captain of the school Dance Team as well as a student at a local dance studio, and I am also an active participant in my church's youth group.  My family is my priority—it consists of my parents, my two sisters, my brother and our two fat cats.  On a side note, some of my favorite things in life include good southern food, One Direction, and basically anyone/anything that can make me laugh.
Feedback is encouraged.  Thank you for reading the Commander!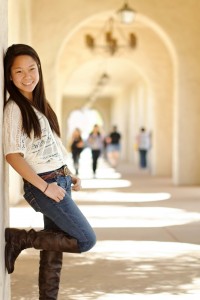 Hey everyone!
My name is Samantha Wang, and I am one of the News Editors for this 2012-2013 school year. I'm a sophomore this year and that sadly means only 3 more years of the Commander Newspaper.
I am super excited to be the News Editor this year and hope to continue with the Commander until I graduate. I've always enjoyed writing and I can't wait to inform you all on the latest UC High news.
When I'm not writing for the newspaper or doing homework for school, I enjoy doing professional musical theatre, shopping, and spending time with my family and friends.
I am so honored to be on this year's Commander Staff and I can't wait for you all to read the Commander Newspaper!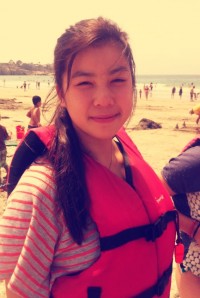 Hello everyone! My name is Isabelle H. Pham, but please just call me Belle. I'm a junior attending UCHS and this is my second year on staff in journalism. My job is unlike everyone else's. Instead of typing articles on the computer, interviewing people on campus, or even taking photographs all over the place, I'm found in room 226 drawing, sketching, or doodling for articles. I'm the Commander's artist and I sincerely love my job. I love my job a lot, to the point where there are sometimes ink stains of different colors all over my fingers, hands, or even arms. If you want, I could draw something for you too!
Aside from journalism and art, I hike, bike, flip through magazines, read interesting books, eat sweets, sleep, play the cello, or daydream in my spare time. I'm about to learn Mandarin and I love listening to Classical, Jazz, Rock, or Korean pop music. I also take interest in golfing and I'm a team player on the UCHS Girls Golf Team.
If you have any ideas, comments, or requests related to my artwork, please don't hesitate to contact me when you see me on campus. See you around!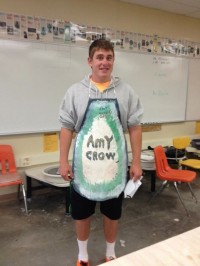 Hi my name is Jack Minnick, and I am a senior at UCHS. This is my second year as an Editor-in-Chief after being the sports editor of the Commnander. I am a fourth year journalism student. Though the Commander is going through big changes, I know this year's paper will be successful because of the energetic staff. The biggest change we wanted to make to the Commander is modernizing aesthetics. Journalism has been one of the best parts of high school, because I want to pursue a journalistic career. The class has not only improved my writing but also improved my knowledge about the school, staff, and students at UC High. Along with the newspaper, I am an athlete, playing on the varsity Football, Basketball, and Baseball teams. Other hobbies include making movies with friends, working in ceramics, and homework.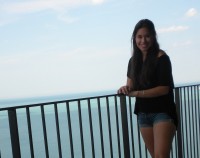 My name is Emily Siegler and I'm Co-Editor-in-Chief of the UCHS Commander.  I have participated in journalism for four years, and have held multiple positions over the years, including Senior Editor of the Standley Middle School newspaper and Features Editor of The Commander this past year.  I'm looking forward to my junior year at UC High and dedicating much of my time to the paper.
I hope to make The Commander more interesting and appealing to a wider audience this year. Whether you're a high school student, parent, or faculty member, I believe it is crucial to know about the events, people, and issues in your community. We've switched up the layout and design of the newspaper this year, in hopes to move The Commander in a more modern, evolving direction. We also plan to broaden the range of issues, activities, and people covered in the newspaper this year, hoping to better represent the diverse UC High community.
When not writing or working on the paper, I love traveling (to places within or outside of the U.S.), playing the violin, running (when it's not painful), sleeping, baking, laughing with friends, listening to various types of music, and going to TapEx and Starbucks.  I also enjoy using sarcasm and finding the sick irony of situations.  When I get a chance I like catching up on shows such as Grey's Anatomy, New Girl, and Saturday Night Live, and pondering the meaning of life.
I'm always looking for input and feedback about The Commander. I would love to hear your questions or feedback about any aspect of the paper; please come find me in Room 226 during fourth period to chat.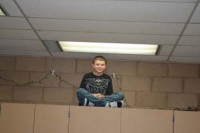 This is Austin, a small short kid who is in fact very hyper most of the time. He's the Photography Editor for the 2012-2013 school year. When he's not stuffing his face with sugar or playing video games, he's taking and editing pictures. When he starts taking pictures, he gets down to business and forgets about sugar and games. He mostly enjoys sitting on a couch and being lazy while watching TV with his dog and a box of cookies.
During the winter, this elf just has more of an excuse to stay inside with hot cocoa with a box of sugar poured in. What kind of elf doesn't like the cold? To him, it doesn't matter if the weather outside is frightful the fire is always delightful, please don't snow, please don't snow, please don't snow.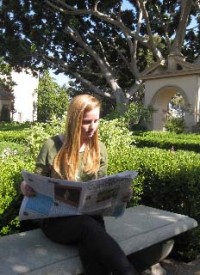 As the 2012-2013 Commander Opinion's Editor, Mary Lonsdale aims to provide UC students with information and perspectives on various topical issues both world and campus-wide. She wants to help students recognize that the seemingly trivial debates whispered around them can have tangible effects–as can their own opinions. It's also just a lot of fun to rant. This year, her second on the Commander staff, Mary is excited to contribute her writing and ideas to UCHS.
Out of the classroom, Mary mostly spends her time painting, struggling with playing the piano, listening to "painfully mainstream" music, figure skating, and avoiding social interaction.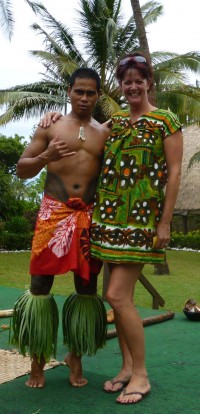 Mrs. Susan Bristol, advisor for the school newspaper the Commander, has been teaching English and journalism at University City High School her entire career, ever since 1993. She also went to University City High School (class of '87), was an AP reader for the school while in college and did her student teaching here. She is caught in a Twilight Zone of UCHS!
Mrs. Bristol went to UCSD for her Bachelor's degree and received her teaching credential and Master's degree from USD. She is the wife of Max Bristol and the mother of Cassandra, born in 2004.
She played rhythm guitar in two local punk bands when she was younger and loves garage music, punk and rock 'n' roll. Mrs. Bristol adores gardening, cooking and DIY home projects (She likes to yield power tools.). She is also VERY into tiki kitch and loves Hawaiian décor (She built a tiki bar in her backyard!).
She resides in room 226, home of the Commander staff.